Today, more and more companies are switching from rectangular to spiral round rigid duct work.
Why is this? what advantages do spiral systems have over rectangular? The answer is simple.
E nergy efficient
C ost less to install
O ften required less space
N eed less hangers
O peration cost lower
M ore noise free
I nstallation simplified
C leaning less complicated
A irflow measurement easier
L ight in weight
The perimeter of round ducting system is less by 20% or more of same cross section of rectangular ducting. The area of ducting and insulation required is less by the same percentage.
Applications
Air Conditioning (including high pressure and high velocity air distribution systems)
Ventilation (Industrial & Tunnel)
Warm air heating
Fume and dust extraction
Pneumatic conveying
Exhaust and air intake pipes.
Humidification
Specifications
Thickness
0.50mm (26G) to 1.6mm (16G)

Thickness of Spiral ducts as per SMACNA (HVAC Duct construction standards)
| Diameter (mm) | Thickness mm(G) |
| --- | --- |
| 75 to 250 | 0.50 (26G) |
| 251 to 600 | 0.63 (24G) |
| 601 to 900 | 0.80 (22G) |
| 901 to 1250 | 1.00 (20G) |
| 1251 to 1500 | 1.20 (18G) |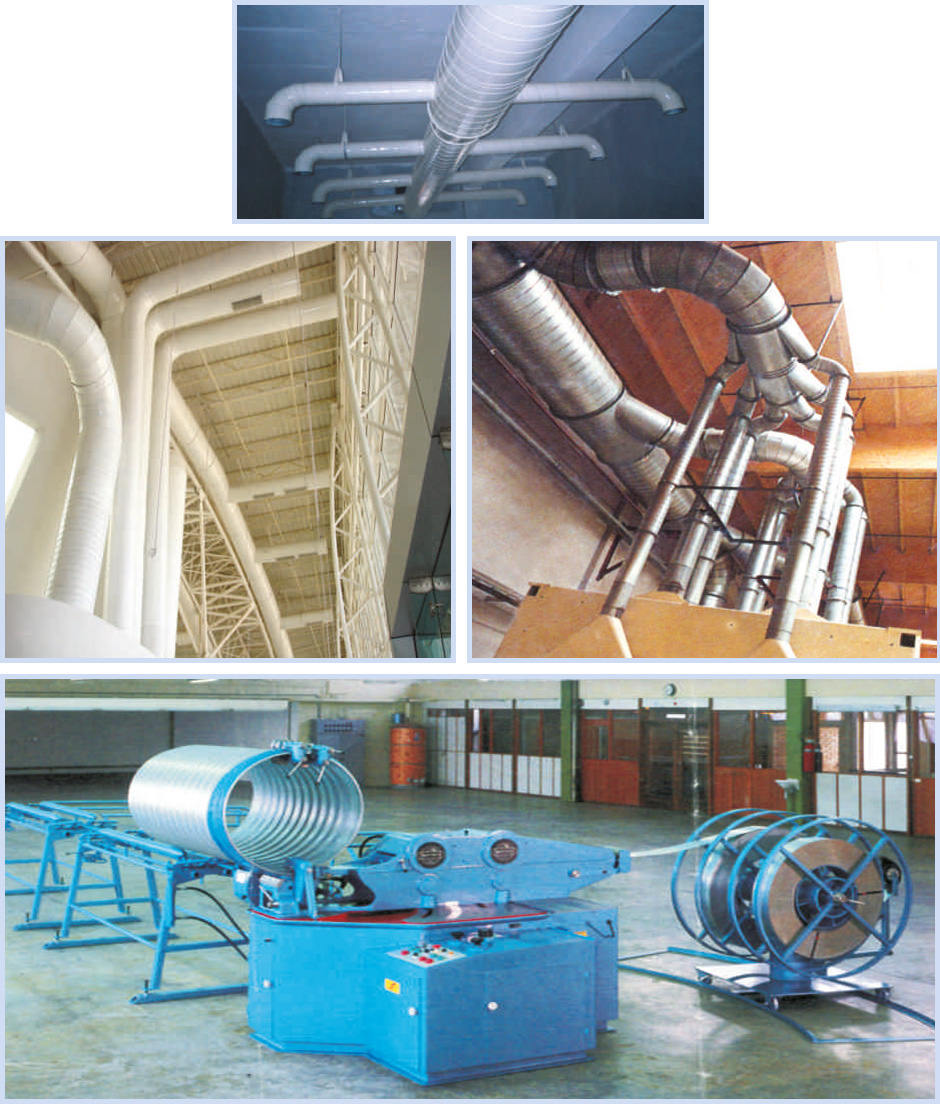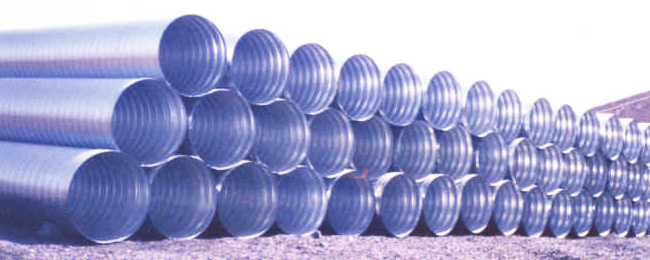 Diameter
75mm to 1600mm
Length
Unlimited
Material
Galvanised Steel, Aluminium, Mild Steel (CRCA), Stainless Steel, etc
Surface Constructions
Plain or Corrugated
(to increase the rigidity of the ducting by 300%)
Pre-insulated Double-walled Spiral Duct Systems
A. Thermal Insulation
A double-walled thermal insulated spiral duct consists of an external pressure tight metal shell, a 12.5/25 /50mm thick of fiberglass / mineral wool / puf insulation and an internal protective metal liner.
A. Advantages
Double-wall fire protection.
No sheet metal screws in the air stream
Lower friction loss
Improved appearance
Speeds installation
No fibers in the airstream.
Protection from External damages.

---
B. Acoustic Insulation
A double-walled acoustic insulated spiral duct consists of an external pressure tight metal shell, a 12.5/25/50mm thickness of fiber glass/mineral wool insulations and an internal perforated protective metal liner and fiber glass tissue between the perforated liner and insulation material. In addition to the above advantages this system is having advantage of High Sound transmission loss.

Duct Fittings
Duct Fittings (Elbows, Reduccers, End caps, Offsets, etc.) with standing seam joints are manufactured on high speed machines (CNC Plasma cutter, Gore locker, etc.) while maintaining the high dimensional accuracy.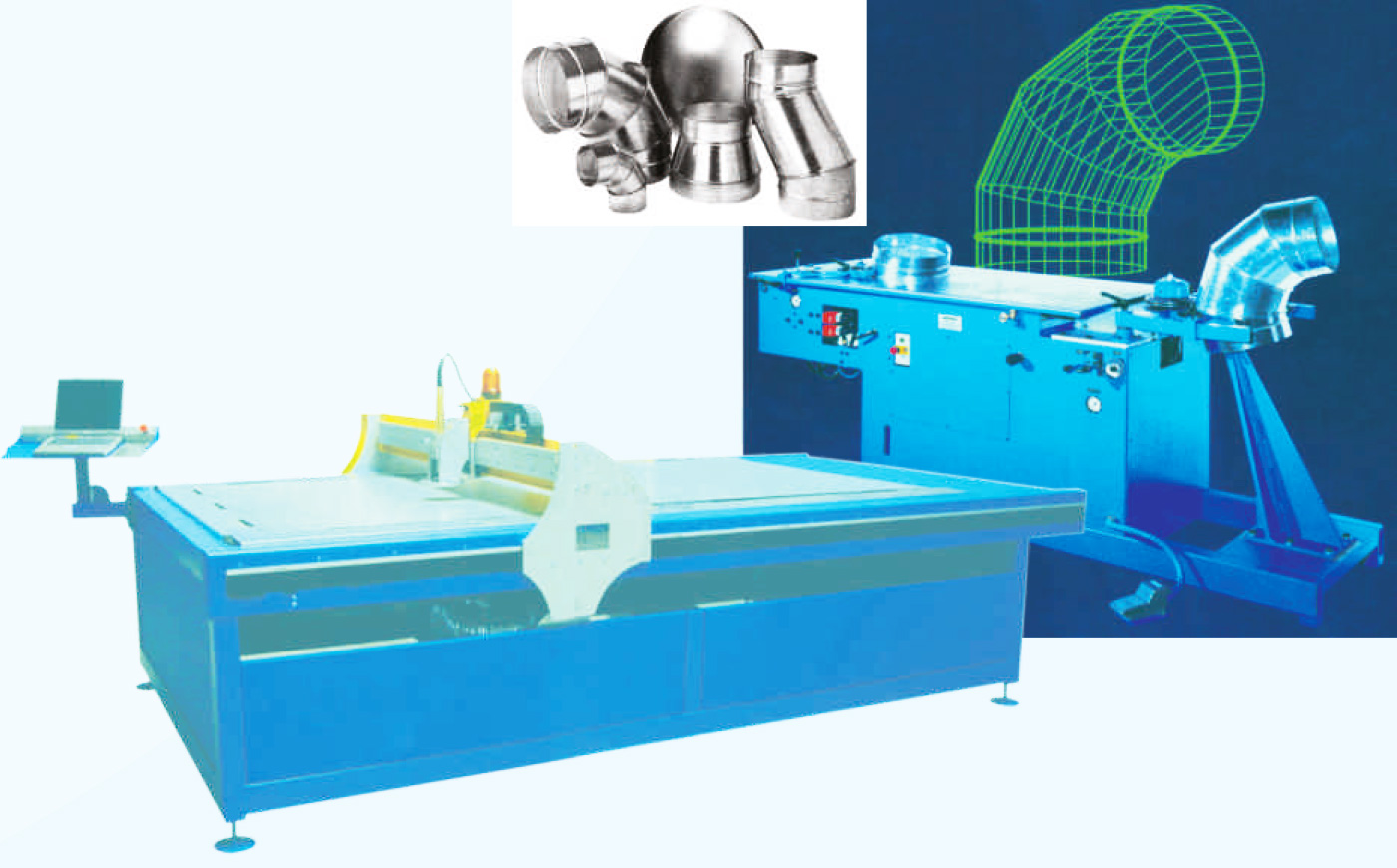 Jointing System
Spiral Ducts and duct fittings joined together by slip joint coupling.

Supporting/Hanging System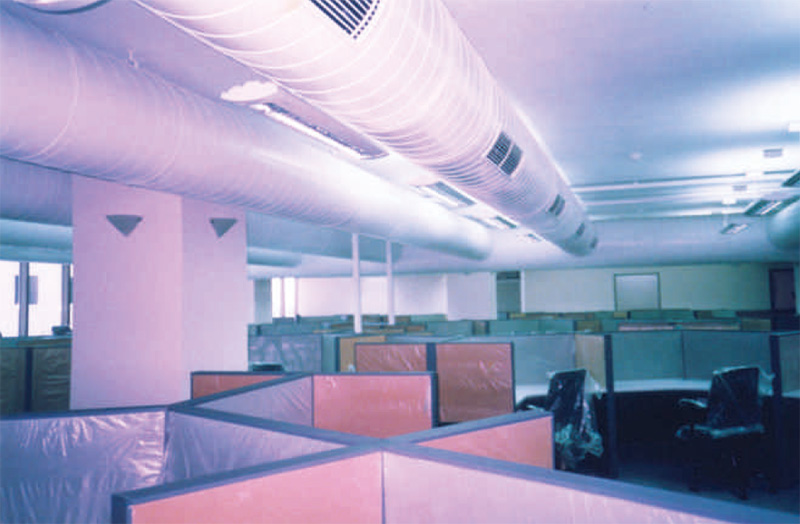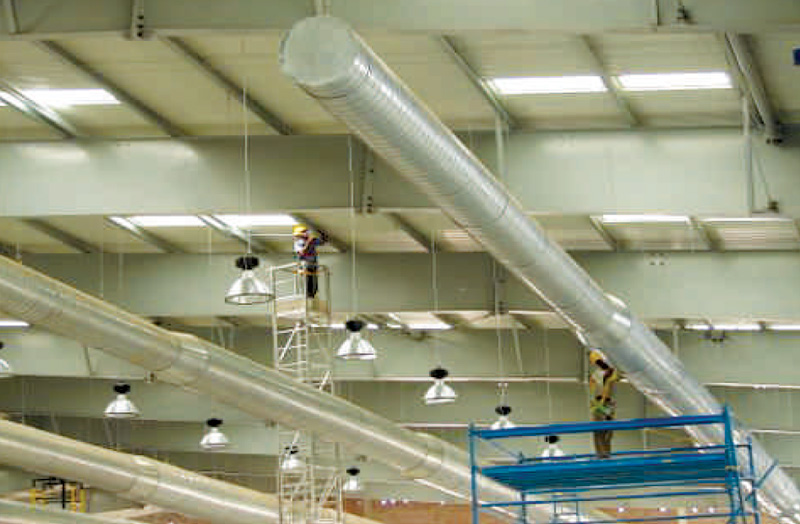 Note : Mobile Machine is available where the quantities and location warrants